How to use the "Used Truck Parts Finder"
Everyone uses the internet differently and depending on the generation you were born in; you most likely have different computer habits than me or the next person. So, we drew up a small tutorial for anyone to learn how to properly search through our entire yard with out even having to leave the comfort of your sleeper.
When You First Arrive to Lomoca Heavy Truck Parts
You are going to be greeted by this lovely screen.
Note the difference between Mobile and Desktop.
This page works the same either on desktop or mobile. The only difference is that to get these options to appear on mobile…

you need to hit the "burger button" on the top right of the screen…

and you will have access to the same options as your would on desktop…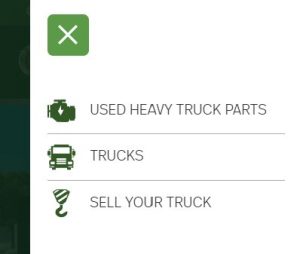 So now that we have discussed the main differences between mobile and desktop. We are going to focus on desktop as the search functions. The process to get to those options is the same on either platform, its just bigger and easier to see on desktop.
Searching for Truck Parts Online
When it comes to truck parts, depending on your geographical location, some parts may have different names, or the same names could be used to refer to other parts. Here at Lomoca, we tried out very hardest to make this as simple as possible.
As you can see in the photo below, we circled the different way to search for used to trucks parts.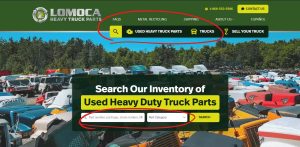 You can search the inventory by typing in a "keyword" in the search field. This can be a part number, a part name, a model number, a specific year, a specific make/brand, and model type.

In the "Part Category" drop down menu, you can refine your search even further by just selecting which category you want to search for. For example you can type in "2014 Volvo" and leave the part category empty to view everything that is from the year 2014 and made by Volvo or you can select the drop down menu, and hit the "Hoods, Fenders & Grilles" category to see every single part that is from the year 2014, made by Volvo and relating to hood parts.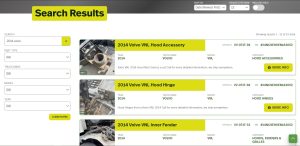 This option is great for customers in a pinch and need to find a replacement part for their personal work truck that is currently sitting at the mechanic shop. Specially if this customer does not know much about truck parts. Type in the year, make and model and show the list to your mechanic, they will be to tell you if the part is good for your truck or not.
Alternative Methods of Searching for Trucks and Parts.
We noticed that a lot of our customers love to walk around and window shop around our yard and unfortunately were always super busy so we can't always give the appropriate amount of time to answer every single question. So, to better help our more indecisive customers, we tried to accommodate their style of shopping.
By using the top bar with the magnifying glass icon, you can do four things.

From here you can hit the magnifying glass icon to re open the search field and category drop down menu. This is mostly to give you access to the search bar at any point, no matter where you find your self on our website, with out having to go back to the home page. You can also search by Used Heavy Truck Parts or by trucks, but you can also learn more about selling your trucks here at Lomoca.
Searching for Used Truck Parts Alphabetically.
When clicking the "used heavy truck parts" button, you will be redirected to this page…

Here you can search alphabetically by part names, as shown here. (Note how we also provided the number of available parts.)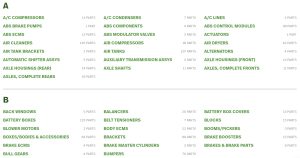 This will bring you to a page with every single air cleaner we have listed in our yard. Here we have also given you the option to refine your search even further, by filtering through available truck makes, models and years. You also have the text field option to type in what you're looking for in the specific part that you selected.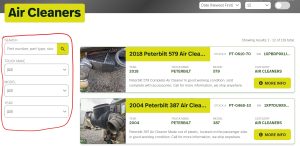 Searching for Used Truck Parts by Category.
Like the Alphabetical search, searching by category groups up all parts that fall into one specific system. As you can see in the image below, some parts have a (+) button. These are the parts that have smaller parts that all relate to the differential assembly systems.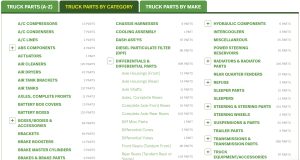 Once you have selected a part, everything else is the same as the alphabetical search, use the filters to further refine your search. Make, model and year or use the text field on the filters.
Searching for Used Truck Parts by Make.
If you were to ask me for my personal opinion witch was the best way for truck mechanics to search our entire inventory of used truck parts is the "truck parts by make" feature as it lets you filter through all the different Truck makes like Kenworth and Peterbilt, but you can also see all engine makes like PACCAR and Detroit, as well as all the available transmission makes that we stock like Aisin and Eaton/Fuller Transmission assemblies.
Also note that you can also see the number of available parts for each individual make, so you can get a good idea of what our stock looks like. This is also the best method of searching for big components like Engine Assemblies and Transmission Assemblies.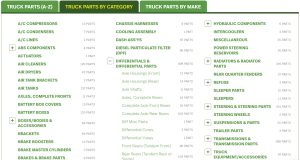 And just like previous searches, once you have the part selected, you can use the filters to further refine your search to what you are looking for.
Searching for Used Truck Parts by Trucks.
Finally, the best method for truckers in a pinch. Search your exact truck make, model and year and see every truck that is available like your own truck. This is how you search all of our "trucks on the lot"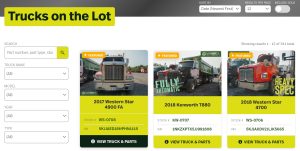 Here you can refine your search by using the filters but ideally you would want to use the text field to type in the exact truck make, model and year of the truck you are looking for. What makes this specific search different and more special than the other alternate methods is the listing themselves.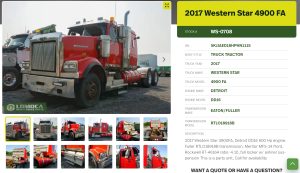 As you can see here, you can see the all the information of the truck, the make, the model, the year, as well as the VIN, Body Style, the engine, and transmission found inside the truck. In the description you can find more detailed information about other components in this truck.
Once you find the truck that you like and the specifications match your truck, you can scroll down and see all the available parts for this exact truck still in our yard. There are filters to help you refine your search, but if you don't find what you're looking for in this truck, it just may not be available on this truck. We normally recommend our customers to search for that same component in other available truck as some trucks have interchangeable parts (always double check with your mechanic before making any purchases).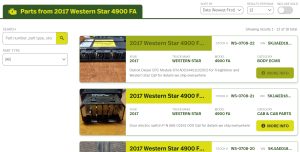 How To Request a Quote or Get a Hold of Lomoca Over the Phone.
If you do want a quote on the complete truck or are looking for more information, we have added two buttons to the listings to help you connect with us on every listing. Just scroll down a little, and these two buttons should pop up at the bottom of the page.

If you are on desktop and you try to use the call us button, most internet browsers will ask to connect to your mobile device to try and complete the call. If you already have your phone set up for this, great! If not, no need you can just type in the number on button to reach us as well. If you are on mobile, the call us button will connect you with us automatically.
When requesting a quote, the process is the same weather you're on mobile or desktop, leave us contact information and someone will contact you as soon as we can.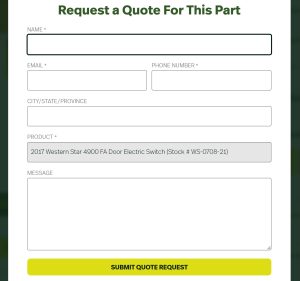 Pro Lomoca Tips and Tricks
Want to see what has been already sold from the truck? Curious about what was dismantled first? Use the sorting feature to see what was sold and what is still available.

If you're struggling to find what you're looking for, something you saw before isn't showing up now? Hit the magnifying glass and start a new fresh search, this usually fixes any problems you may be having.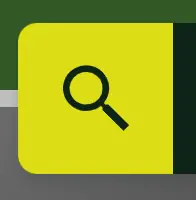 If you find your self on a part and are curious about other parts available on this specific truck, use the view truck button below the description. this will take you straight to the truck listing to view all available parts.

Bookmark our home page and refer to it when ever you are looking for parts, even if its just for information. Keep us handy, you will never know when you're going to need us.